Area information
Welcome to the "Bos en Vaart" apartment building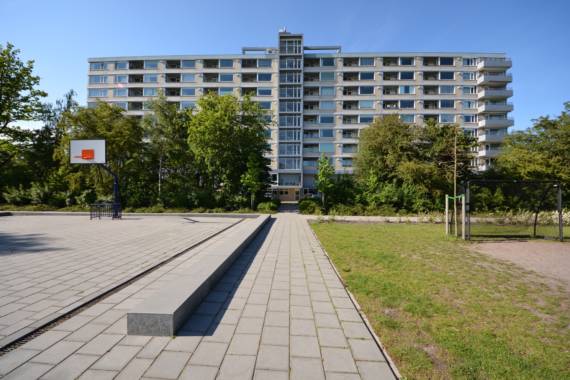 Since 2005 we lease out several apartments on the Bos en Vaartlaan in Amstelveen. Amstelveen lies directly next to Amsterdam, in an area especially attractive to expats because of it's favorable location. While the surroundings are quiet and green, all means of transportation (bus, metro and highway) are right outside your door. Shopping center and supermarkets are within walking distance.
All our apartments were completely renovated in a modern style, where everyone will feel right at home. The apartments are fully equipped and furnished. At delivery you will find new bedlinen, bath- and kitchen towels.So if you are looking for an apartment in Amstelveen, we look forward to help you find the right place to stay!
On each floor we have modems for open internet connection, that you can use freely.
We do not provide phone services. If you wish to have a phone connection, we will of course, at your request, assist in realizing this, which may work out to your advantage in view of already present facilities.
In the apartments we have electric boilers, to provide warm water. These boilers reheat during the night, from 11.00 PM until 06.00 AM.
Your apartment is heated with a general constant heating system. This means the building is continuously heated, independently controllable in your apartment.
Parking
You can park your car on the privately owned "Bos en Vaart" parking area, this is free of charge. Surrounding streets are paid parking, as a resident you have the possibility to apply for a permit.
Bicycles may be parked in the designated indoor space.
Reception
Phone number: 020 64 312 00
Reception is situated right next to the front door and is open Monday through Friday from 8.30 AM until 11.30 AM.
Please go to reception for;
accepting postal packages or deliveries on your behalf, should you be unable to be present yourself,

opening your door if you lost your key,

reporting defects or any points of interest concerning the public areas of the "Bos en Vaart" building.
With questions or remarks regarding your apartment, defects or anything else, please contact:
PROPERTY MANAGEMENT, Esther Kok – van der Hart, 00 31 (0) 6 81803826.
We hope you enjoy your stay with us. Of course we are always open to suggestions to improve our service.
Amstelveen Appartementen BV
PO box 2080, 1180 EB Amstelveen
Mobile: 00 31 (0) 6 46294361
E-mail: info@amstelveenappartementen.nl